Central Valley Eggs
Major egg factory farms are descending upon California, banking on the passage of Proposition 12 (aka the Rotten Egg Initiative) in the upcoming November 2018 election. The backers of this harmful initiative include United Egg Producers (the egg-industry's national trade association), egg factory farms, and a corrupted Humane Society of the United States (HSUS) along with its tag-along groups. Together, they are waging a misinformation campaign about Prop 12, attempting to silence critics… all this, while a key backer of Prop 12 is hustling to finish construction of the largest factory-farm complex ever to be built in California.
HSUS's Mega-Egg-Factory Beneficiary
Not surprisingly, Central Valley Eggs is a leading supporter of Proposition 12. The monstrosity pictured above is just the first of four planned egg factories expected to house a total of ten million hens. With the endorsement and full support of HSUS, Central Valley Eggs has already completed construction of its first phase of development and is now operating this enormous factory farm near Bakersfield, California. This massive prison for birds is capable of confining more than 2.5 million hens and one million pullets, and it will be producing over 36 million eggs per month. Once its $1.2 billion project is completed, the number of hens being raised in California will jump from 12 million when the complex began in 2016 to 22 million hens. That will be more confined hens than at any time in decades.
A Conglomorate of Cruelty
One of the backers of Central Valley Eggs is Opal Foods. Opal Foods consists of a private equity firm and two massive egg corporations, Rose Acre Farms and Weaver Brothers Eggs, each with their own sordid histories of animal abuse and violations.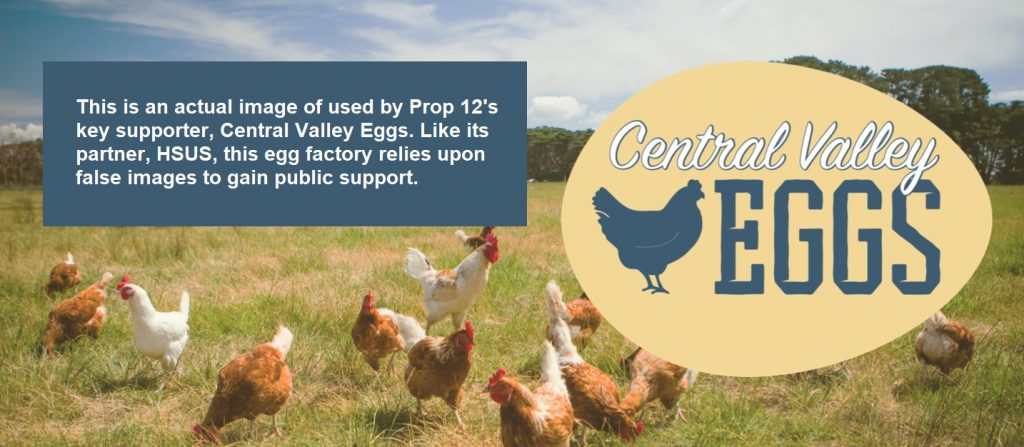 Rose Acre Farms is the nation's second largest egg producer with roughly 27 million hens in 17 factories across eight states. It engaged in — and lost — a 20-year-long battle fighting federal food safety regulations after Salmonella was traced to three of its Indiana flocks. More recently, in 2018, it faced a massive egg recall of 206 million eggs for possible Salmonella contamination after the FDA traced an outbreak to its enormous North Carolina egg factory. Deficiencies included live and dead rodents in chicken houses, flying insects throughout the egg-processing plant, and farm workers handling dirty equipment and trash cans before touching eggs or equipment.
Weaver Brothers Eggs, with eight million hens, is the 12th largest egg producer in the U.S. An investigation into one of its factories found hens suffering with huge, untreated growths and infections; birds trapped in the wire of their cages; and rotting bird carcasses amongst hens still producing eggs for human consumption.
The other backer of Central Valley Eggs is Hickman's Family Farms of Arizona, the largest shell egg company west of the Rockies. One of its Phoenix egg factories confines four million hens in 12 warehouses and has made headlines for its polluting ways. Over 400 complaints have been lodged against the operation. Reports document "sickening stink," dusty haze, feathers, flies, fecal matter, and dander that are being blown into nearby homes by giant fans from the operation. Lawsuits have been filed by residents who want the operation declared a public and private nuisance. Hickman's countersued, hoping to gag the residents, only to have its lawsuit thrown out of court.
"It's time for us to set the agenda and define what 'cage-free' looks like."
— United Egg Producers